I'll never forget when my husband and I told our church secretary we were making a change in our ministry focus. "We're no longer going to be reaching college students. We'll be doing neighboring," I said with excitement. She looked back at me with a blank stare. "Neighboring?"
Prior to 2012, the word "neighboring" described something or someone located either near or next to, like a neighboring country. When Dave Runyon and Jay Pathak titled their book, "The Art of Neighboring," they coined the term in a new way. Neighboring is now also a verb that means to deliberately and actively engage with your neighbors.
This idea of neighboring came as a striking contrast to the cultural norm, which had become much more passive. The days of knowing our neighbors — even depending on them — seemed a thing of the past. Now, neighborliness was defined by keeping the peace, taking the trash out and generally leaving your neighbor alone.
But thinking about neighboring in a biblical way means more than just living near someone or keeping the peace. Jesus didn't leave us alone. Instead he moved into our neighborhood and became a neighbor to each of us.
Why does neighboring matter?
Given the cultural pull toward isolation, for many of us the idea of moving toward our neighbors may feel uncomfortable, awkward or maybe even wrong. But as believers, we may also feel guilty. "I know I should reach out, but I don't have the energy or the time. And even if I did — it's just too weird."
We feel the disconnect between wanting our neighbors to know Jesus but not knowing their names. We want to engage with the Great Commandment and the Great Commission but we're so isolated that we don't have the relational connection to support meaningful conversations. We shrug off Jesus' expectations as unrealistic: How can I show and share the love of Jesus with someone I've never met?
But what if we could change all that through simple acts of neighboring? And what if we were slower to divide our neighborly conversations and interactions into sacred and secular categories? Instead, what if we begin to trust that God uses ordinary means to establish relationships where we can share the gospel?
Perhaps it would break our sacred and secular categories and take the pressure off. Maybe we'd see gospel fruit by drawing neighbors out of isolation and into unexpected friendships. Rather than being guilt-motivated, we could become gospel-motivated. Rather than leaving our neighbors alone, we could make the first move.
Jesus made the first move, and so can we.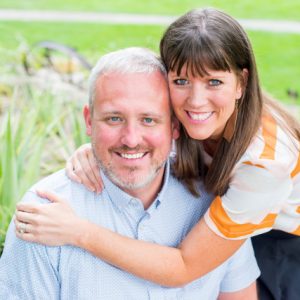 MORE ABOUT CHRIS AND ELIZABETH McKINNEY
Chris and Elizabeth McKinney are passionate about helping people love their next-door neighbors. They work for Cru City and serve as associate staff at their church in Missouri, The Crossing.